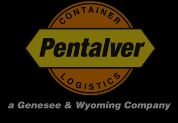 Pentalver Cannock Ltd
"Opera II speeds up my job without a doubt. People pick Pegasus up very quickly which is such a big bonus."
Company Profile
The Pentalver Group is the UK's leading container haulage, storage, repairs and refrigeration services company, with over 400 employees and a turnover of more than £25m. Pentalver Cannock Ltd is one of five storage sites within the Group in the UK, making up a third of the Group's revenue and half the workforce.
As manufacturers continue to move production overseas and demand leaner JIT (just in time) practices, it won't be long before the Pentalver Cannock site reaches peak capacity. In support of the site's readiness for increased demand, it was decided a re-evaluation of their IT systems was necessary to ensure optimum efficiency.
The Group uses a bespoke system called PDS to manage movement and maintenance of its containers. As some of the Group grew through acquisition, each site also has its own systems for managing its personnel and finances. Before the review Pentalver Cannock relied on Pegasus Opera for managing the site's accounts. John Fletcher, the company's accountant comments: "It was 16-bit software and a bit clunky to use, so we decided that the DOS-based system couldn't cut it anymore."
The Challenge
The site's fleet maintenance requires careful management of spare parts and stock. Before upgrading, they relied on another DOS-based system to handle stock, which, John said, "left us with no audit trail and few control mechanisms". It was evident the site's software systems warranted an upgrade.
Pegasus Opera had served the business well so upgrading to Pegasus Opera II was the natural choice. The team were invited to a demonstration of Pegasus Opera II and were won over by the added functionality, modern Windows interface and additional modules. The software presented exciting new possibilities.
The Solution
When they upgraded to Opera II, new modules were added to their core system. The XRL reporting module now enables John and his team to export data from Opera II to Microsoft Excel for further analysis. Once a link from Pegasus Opera II has been made to Microsoft Excel, it's simply a matter of click a button to refresh the report with the latest data from Opera II.
The old stock system was replaced with the Opera II's stock management module, with spare parts and stock being replenished using the purchase order processing module. Furthermore, using Opera II's Payroll and HR module enabled the site to have more control over their employees, helping Andrew Gallimore, the site's HR, H&S & Quality Manager, to manage training, absenteeism, tax, pensions and general administration. Of the transition to the new software process John says: "Upgrading was straightforward. It was pretty much overnight."
John and the team are delighted with the results of upgrading. For a previous company John had used Sage Line 50, but he's now a Pegasus convert: "Opera II speeds up my job without a doubt. People pick Pegasus up very quickly which is such a big bonus. It's a lot more logical."
Results
Reporting has been made much easier too. John explains: "XRL is fantastic. I love it! I produce all my reports using it. The time and effort that saves is just untrue."
The new stock management module has also proved worthwhile. Andrew explains: "We've been able to manipulate it easily to get it to do what we want. It's reduced a lot of the paper work and helped us keep control." Andrew has also been impressed with the Pegasus Payroll and HR module, which is attracting attention from other parts of the group. Andrew adds: "Personnel is working really well. We've got all disciplinary meetings recorded on there; absences; training, etc it maps everything for us. We've set up XRL to produce reports to show when training is coming up for renewal, when employees are due to retire and because it's linked to Payroll we know its bang up to date. It's a big group talking point at the moment."
Links have also been created between Pegasus Opera II and the Group's bespoke system. CSV files are imported into Pegasus Opera II, enabling fast file transfers for invoicing. John adds: "That link could save us hours and hours."
Dealing with growth is the biggest challenge Pentalver faces, though it's not without plenty of competition. The introduction of Pegasus Opera II has enabled them to improve how they manage and control the processes, which in turn helps them to continue to refine what they're doing. Plans are currently underway to
streamline the process of sending invoices, statements and remittances to customers using e-mail – something Pegasus Opera II can do with ease. This small change alone will help reduce postage costs, save paper and possibly reduce average debtor days.
With a modern Pegasus Opera II system in place, Pentalver Cannock now has a strong foundation for managing their growth over the coming years.
Pentalver decided to continue working with Pegasus Strategic Partner, Technology Management, based in the Midlands. John adds: "At the time we'd worked with Technology Management for a couple of years. We were happy with what we were getting and there was no need to change." If John or his team have a problem, Technology Management's support is only a call away. "It's always good to know that you've got people on the end of the phone, especially during Payroll Year End. I'm 99% confident that if there is a problem it will get resolved there and then," says John.
Future Challenges
Partner Connection
Users: 10
Modules: Nominal Ledger, Sales Ledger, Purchase Ledger, Invoicing, Stock Control, Purchase Order Processing, Costing, Payroll & Personnel